Kimorra® is highly versatile, it can easily be applied to MDF and other surfaces for manufacturing furniture, kitchen units, using in wall panels, etc.
Translucent Kimorra® styles can be used behind lighting or as light shades to give fabric effects but with a durable material.
Kimorra® can be used between glass or behind glass where it is more stable and will not stain or distort like a fabric.
We have numerous core designs ready and new styles always under development.
Our Kimorra® Veneers are sold by the panel or square metre; each individual sheet is 1200 x 2400 mm. The thickness of the material varies between 0.3 and 0.7 mm generally dependant upon the base fabric; for example the denim fabrics are around 0.5 mm thick.
We have specialist furniture and panel makers that have made the items shown below and we welcome enquiries from other furniture manufacturers that are interested in exploring this technology. We also welcome any interested retailers, shop fitters, interior designers and we can suggest suitable processing partners to help them. Please give us a call and we will be pleased to help.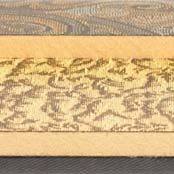 MDF
Through extensive work with numerous supliers we have found some excellent bonding solutions.
MDF is strong and dense it is perfect to provide strength to any situation exspecially when weight is not an issue.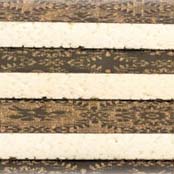 LIGHTWEIGHT CORE
We are working on light weight core solutions and have some examples available.
METAL 
Our adhesive suppliers have offered us some good solutions bonding our fabric veneers to metals.
We can provide you with the panel and the contacts that can bond the material for you.  If you wish to collaborate then contact us.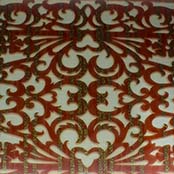 GLASS
The glossy Kimorra® already has a depth to its surface appearance and the glass enhances this further.  The laminate process should enable Kimorra® to be used in glass floors, shower screens, panelling, table tops and many more uses to bring new life to the surface appearance.
Laser cut intricate design laminated between sheets of toughened glass (above)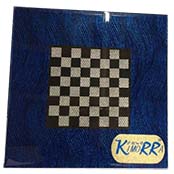 LACQUERING
The world's first Kimorra® chessboard designed by Genesis Product Development.  The lacquering skills of Genesis combined with the depth of colour in Kimorra® make this a show-stopping piece.